if you're reading this guide and dont know what merching is, it means buying items, and selling it for a higher price, therefore making profit, that is how ive made A LOAD of money off of it. do NOT, i repeat...do NOT spend more than u can go without. and you DO risk losing money, but you do risk making money...your choice to do it or not.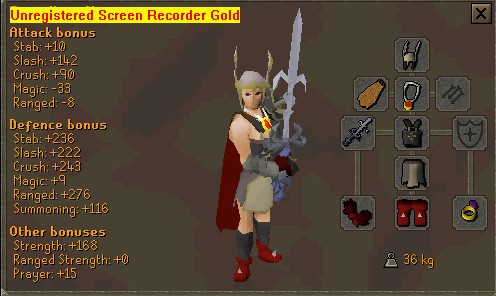 EXTREMELY IMPORTANT INFORMATION!!!!!!!! ok, on the grand exchange, there is a 4 hour limit (yes, EXACTLY 4 hours). If you buy an item from the grand exchange OR A PLAYER you cannot sell it in the grand exchange for 4 hours after that! ever bought an item for max, tried to sell it back and it wouldnt sell back for lowest?! THAT IS WHY!!! also, for rich people, you can only buy a certain amount of items every 4 hours. For example, you can only buy 10 of ANY barrows piece every 4 hours. try any more in that time limit and IT WILL NOT BUY UNTIL THE NEXT 4 HOURS. this 4 hour limit starts when you buy the very first one. HOWEVER THERE IS NO SELLING LIMIT!!!!!!!!! for rich people, if for example the item limit is 10, buy like 50, then sell em all...cuz there is no 4 hour limit for selling, ONLY BUYING, buy 10, sell 10, buy 10, sell 10, etc. WOULD WASTE MANY MANY MANY HOURS OF YOUR LIFE. IF YOU DONT UNDERSTAND ANY OF THIS, PLEASE POST A RESPONSE.
ok well...many people of this clan have been completely ANNOYING the hell out of me on how, what, etc. to merch (you know who you are! -cough- dudepunk and neo). First of all, you can join a merch clan...they work pretty well, such as smokin mils.
Second, if you are smarter...and ARE WILLING TO RISK LOSING MONEY AS YOU MIGHT, go to the grand exchange database on the runescape homepage, check what items have been rising a lot, and buy them. You might want to sell them a day or 2 later because you have NO idea when theyll crash.
IMPORTANT INFO: If an item has been going up for awhile, like a week, i would NOT merchant it, as the longer it has been going up, the bigger chance it has of dropping the next day. i DO reccomend merching an item that has been dropping for awhile, and then starts to rise. For example, if (random item) sara sword dropped for a week at 200k a day down to say 5m. then in the grand exchange it rises 300k the next day, it might be a good idea to merch it.
FAQ:
how do i check the prices of items (if theyve been rising/dropping) for the previous day(s), if it only shows today?
in the grand exchange database, click on the item and look at the graph, itll tell the items rise/drops for up to the past 30 days.
Where is the grand exchange database?
on the runescape homepage, go to game guide, and then go to grand exchange, there will be a search bar for your item.
should i merchant an item if its dropping?
THERE IS ONLY ONE, AND ONLY ONE REASON WHY YOU WOULD!@@@ if a merch clan was about to merch it. other than that, if you THINK it might go up the next day, wait till the next day to merch it...you could buy 1 of the item to see if its about to go up, but you risk losing money.
how long do i keep an item im merching?
the longer you keep it, the more you risk it dropping, when it starts to drop...you risk losing money. if you want to keep safe, only keep it 1-2 days then find a new item.
IF YOU HAVE ANY OTHER QUESTIONS PLEASE, PLEASE!!!! POST AT THE BOTTOM, I WILL BE MORE THAN WILLING TO ANSWER